College Football Hall of Fame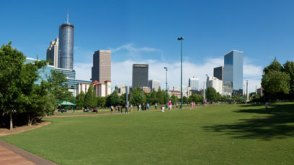 In just a few short months, Atlanta will become home to the College Football Hall of Fame. Located just under a mile from the Westin Peachtree Plaza Hotel, the new attraction will host 95,000-square-feet of interactive museum displays, murals, and various football memorabilia, all celebrating college football and the sport's most successful competitors and coaches. An estimated $66.5-million will fuel the building's construction, which is scheduled to be completed by August 2013.
Before its relocation to Atlanta, The College Football Hall of Fame was located in South Bend, Indiana. Since its establishment in 1951, the National Football Foundation has inducted hundreds of players, coaches, and schools into this prestigious organization. The building will be located on Marietta Street, just minutes from other Atlanta attractions such as Centennial Olympic Park. The Westin Peachtree Plaza offers the ideal Atlanta location and accommodation for our visiting college football fans.
College Football Hall of Fame: 246 Marietta St, Atlanta, GA 30313
Distance from hotel: less than 1 mile